Perfect Takeout
Nobody wants limp, soggy fries or pizza crust that disintegrates during delivery or after pickup. The good news is that we've come a long way from wax paper and foil wraps, brown paper bags, and old-school styrofoam when it comes to our delivered food and to-go items. The packaging industry is in overdrive, coming up with new designs, materials used, and other post-pandemic innovations to make takeout just as delectable as restaurant dining.
Pandemic Challenges
One legacy of the pandemic was how it made the sogginess problem a priority for restaurants to fix. Grant Stafford, co-founder and co-CEO of SAVRpak, says, "Most foods aren't meant to be delivered, something the COVID-19 pandemic exposed. At a restaurant, you get your food within minutes and start eating it right away. During the pandemic, takeout and delivery were the only options, and the time it took for people to get their food increased dramatically. This meant that fried foods such as wings and French fries were difficult to transport and stay fresh because they would get soggy. Other grilled foods such as burgers, steaks, and chicken would become damp and lose texture. If you combine a sauce on a crispy food like nachos, then it's even harder to stay fresh."
Thoughtful Repurposing
Looking closely at packaging options was the first step in solving the soggy problem for many restaurants. Ben Grupe, Chef for Tempus restaurant in St. Louis, Missouri says, "We sourced bags that fit the containers perfectly so the food survives transport, and we package all cold food together and all hot food together to retain temperature. The beverage packaging is a glass, flask-style bottle that fits snugly into the bags for transport. Our guests have complimented the quality of the bags and have repurposed them as gift bags. Same for the food containers. They make for great meal plan kits for home use or storage for kids' crayons, markers, and Legos."
Geometric Packaging
For larger orders and more complex takeout orders, geometry has become a restaurant's best friend. MeyerPak has eliminated the problem of food shifting in transit for many entrees and foods with their MeyerCubes. The MeyerCube has nested and perfectly-fitted boxes within boxes to ensure the food stays put, creating a better presentation and delivery experience for the end-user.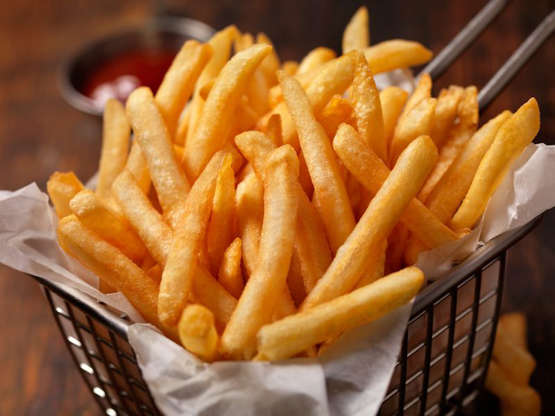 Earth-Friendly Boxing
Soggy fries weren't the only problem as takeout became a pandemic standard — the impact on the earth was also an issue. For those who want to feel better about their food's environmental friendliness, eco-friendly packaging can make a difference. Manufacturer VerTerra excels in sustainable packaging. Their to-go containers are balsa wood sourced from tree stumps. The bonus is their company has employed over 500 women in rural India and Indonesia. The Balsa line is made from the leftover tree stumps from certified renewable tree farms. Their team removes the stumps and the raw material for this balsa to-go product collection. They even recycle the water used during the manufacturing process, and the leftover bits are made into cattle feed or turned into organic compost. Their packaging has no glues, plastics, lacquers, veneers, or toxins.
Reusable Containers
An even more earth-friendly choice with your takeout meals? Dispatch Goods has taken the to-go container in the San Francisco area and gives you the option to reuse your takeout containers. Order food from a Dispatch Goods partner restaurant (even with third-party apps) and your food is prepared in reusable bags and containers, and you'll be auto-scheduled for the collection day in your neighborhood. Another option is to deposit cleaned, used containers in a nearby return bin.
Insulated Deliveries
The British have perfected the cold delivery game with an eye on the environment. The Eco Box Softbox's new plastic-free 100% curbside-recyclable cardboard insulated shipper uses Thermaflute insulating technology, recycled corrugated cardboard, and zero plastic. It comes as a flat-packed design to save space when storing, too.
Moisture-Free Meals
The moisture that gets trapped with your food is the ruin of many delivered meals, but this is one effective answer. SAVRpak is a California-based startup co-founded by Bill Birgen, Greg Maselli, and Grant Stafford. The packaging technology removes moisture from a container to keep food fresh and reduce food waste. Their patented peel-and-stick patch creates a small envelope trapping condensation and moisture away from foods to prevent sogginess and food spoilage, successfully keeping food fresh and crisp by extending the shelf life by 50 percent. Stafford says, "SAVRpak's tech has been a steady build, but COVID presented a need for restaurants to be able to deliver quality food at a higher rate."
Sandwich Solution
Jeanne Cheng, the owner of Kye's Feel Good Food in Los Angeles, is the creator of the KyeRito, a handheld sandwich, salad, or bowl. Her patent-pending slip-wrap packaging allows meals to be eaten handheld without having to touch the food. Individually wrapped and sealed, her unique packaging is an inner layer of cellophane that keeps crispy foods away from sauce until you're ready to eat, making it practical for delivery and takeout.
Fry Future
Still getting soggy takeout fries? Some potato pros are hoping to spread the word on how to make that a problem of the past. Jason Allen, director of global product management and innovation for packaging manufacturer Lamb Weston told PackagingDigest.com, "The primary objective while brainstorming the packaging was to keep fries hot and crispy through the delivery process … and help our customers solve one of their pressing challenges — how to improve the quality of delivered fries…our Store to Door support (preparation and packing tips, to door), optimal delivery strategies, and care and handling directions for our operators are a valued feature of the Crispy on Delivery solution."